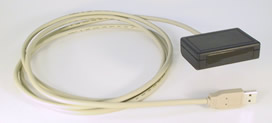 USB-UIRT (Universal Infrared Receiver/Transmitter) allows any USB-equipped PC to Transmit and Receive Infrared signals to common AV equipment.
---
SOFTWARE AND DRIVERS
To the right you will find the latest USB-UIRT software and drivers.>>>
THIRD-PARTY SOFTWARE DOCUMENTATION
Some more-common third-party PVR apps and setting them up to work with the USB-UIRT are here:
TECHNICAL ISSUES
The best place to start if you're having technical difficulties is the USB-UIRT Forum. Here you can post questions, read tips and FAQ's, and read up on solutions found by other USB-UIRT users. Also, a wealth of knowledge about HTPC (Home-Theater PC's) and IR integration can be found at the Home Theater Computers forum on AVS Forum.
E-MAIL SUPPORT
I will do my best to answer your questions and offer basic product support. Email support@usbuirt.com with your questions.
WARRANTY
I (Jon Rhees) will, at my option, repair or replace, without charge, USB-UIRT's which prove to be defective in material or workmanship under normal use, during the warranty period of 90 days from the date of purchase. Alternately, the purchaser may request refund upon return of defective product during the warranty period. This warranty does not apply if USB-UIRT product is damaged due to misuse, abuse, tampering or alteration.
No other express warranty is applicable to this product. The duration of any implied warranties, including the implied warranty of merchantability is limited to the duration of the express warranty herein.
LIABILITY
I (Jon Rhees) shall not be liable for the loss of the use of the product, inconvenience, loss or any other damages, direct or consequential, arising out of the use of, or inability to use, this product or for any breach of any express or implied warranty, including the implied warranty of merchantability applicable to this product.
Windows Drivers:
• Windows XP, Windows 2K, Windows 98/ME: current drivers are here: v1.4.

• Windows 7/8/10, Vista, both 32 and 64-bit: current drivers are here: v2.06.01.

Girder Plugin
• USB-UIRT plugin 2.6.9 for Girder version 3.x is available here. Users of Girder 4 or 5 will find the USB-UIRT plugin included as part of the Girder install.